After the feat of Rafael Nadal, who came out of nowhere to win the last Australian Open against Medvedev, Golf Planète asked Florian Cettour Meunier, Pga pro in Belgium, mental coach and trainer of champions of the highest level -his latest athlete has just obtain a fourth place in the Beijing Olympic Games-, to analyze the reasons for this incredible success that catapulted the Spanish champion to the firmament of sport with this 21st Grand Slam won in his career.
His analysis is all the more interesting since Nadal is crazy about golf: he placed sixth in a professional tournament last year.
Nadal, 6th in a professional golf tournament in Mallorca
Here is Florian's column to read with attention and pleasure!
---
crutches and foot in a cast
---
I will share with you the incredible victory of the player R. Nadal and see how you can be inspired by his way of thinking to apply it to your golf.
In the last Australian Open, the Spanish player won his 21st Grand Slam tournament, surpassing R. Federer and N. Djokovic with 20 Major wins each. But this victory is different in many ways.
https://twitter.com/AustralianOpen/status/1487791222299242502?cxt=HHwWjMC5kf2O2aUpAAAA
A little flashback, a few months ago, Rafael Nadal was walking on crutches and his foot was in a cast. Due to this injury, he required a lot of sacrifice and motivation on a daily basis to return to the highest level.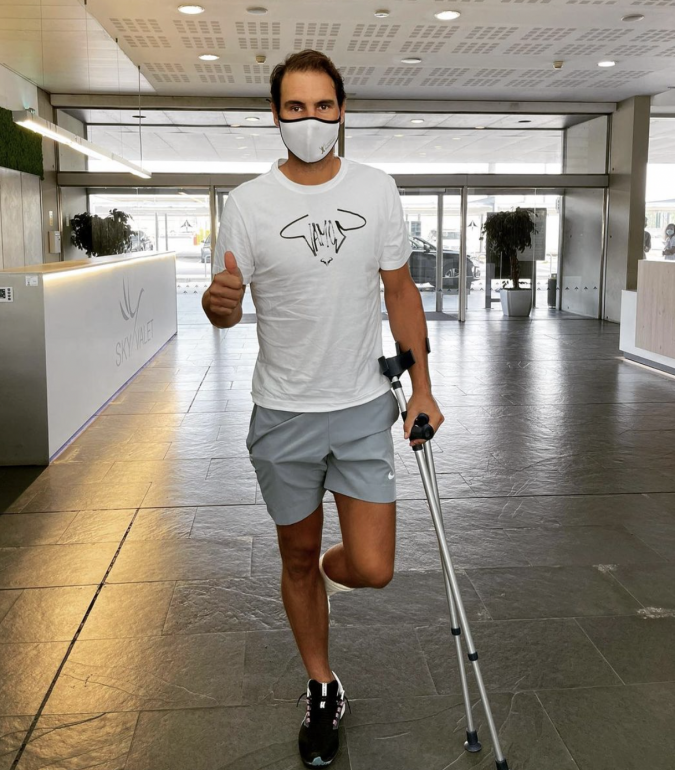 Instagram photo R.Nadal: source [email protected]
On Sunday, January 30, during the final (5h24 of play / 2-6, 6-7, 6-4, 6-4, 7-5), he lost 2 sets to 0 against Daniil Medvedev and during the 3rd set, he saved 3 consecutive break points to go down in history. Throughout the match, his internal dialogue always pushed him to stay positive and believe in his possibilities despite the difficulties encountered at the beginning of the match.
"I was repeating myself throughout the match that I lost many times here having opportunities. Sometimes I was a bit unlucky. I just wanted to keep believing until the end."
Golf Tip: Your thoughts condition your behavior and actions. The quality of your internal dialogue is essential to your golf. Sometimes the player on the field becomes their own best enemy through negative self-talk.
So try to realize during your next matches if you are your best friend or on the contrary if you tend to self-sabotage. It is important to be kind to yourself, to motivate yourself to react in case of a difficult moment. To help you in your approach, you can download my free digital book "The path of consistency: 9 keys to progress and improve your game" by clicking here
Invest 100% on every shot to give yourself every chance to succeed without apprehension about the outcome.
And as R. Nadal explains about the 3rd set: "The situation was critical, the sport is unpredictable: it would have been normal for me to lose in 3 sets in this situation"
Golf tip: the importance of staying focused until the end and believing in it because anything can happen.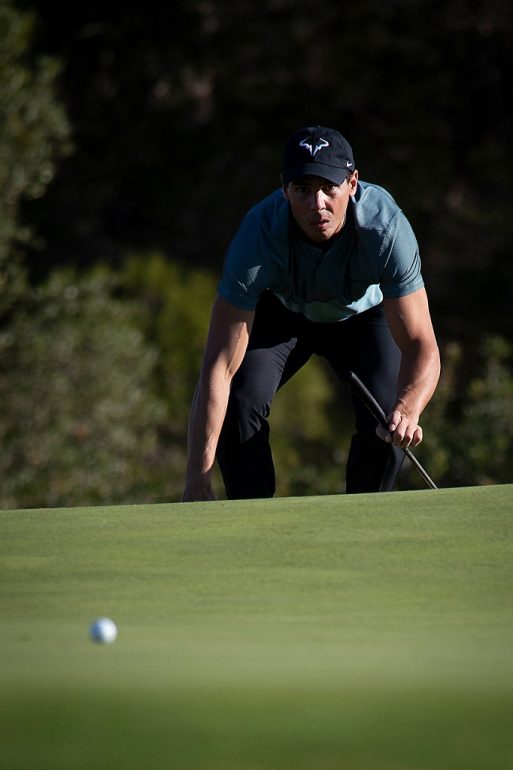 You too, trust this postulate, when your game goes bad, tell yourself that you have the necessary means to change the situation. Also, you may have already gotten off to a bad start in a game by taking a tricky trip to the outside and then making an amazing comeback. The idea is not to suffer but to believe in it to reverse a badly started situation.
https://twitter.com/AustralianOpen/status/1487744292458463232?cxt=HHwWgIDQyabjw6UpAAAA
In this example, R. Nadal knew how to react and get out of this phase in which he was in difficulty. The fact of believing in him, of not allowing himself to give up and giving it his all until the end, made the difference in this decisive moment.
Golf tips: in golf there are also decisive moments during your games, high points and low points to manage. You have to know how to be patient and endure in these less favorable moments and capitalize on the moments in your favor. It is the management of this momentum that will allow you to make your best games. To do this, stay in the present.
If you stay focused on the previous holes you will have trouble finding solutions at time T, you will lack lucidity and concentration. So be careful not to project too far into the future or remain frozen in the past during your games. The action takes place in the present. And for this, be solution oriented:
---
"I really wanted to believe in it until the end, give myself a chance…trying to find solutions"
---
Golf tip: there is always hope and R. Nadal knew how to vary his game and find solutions during this match. If you're stuck in a situation, he tries to step back and see things from a different perspective.
Because in the action the player sometimes locks himself into a strategy or a state of mind that does not adapt. So turn your mind to "solution" mode and not "problem" mode, and above all, give yourself a chance to turn things around when your game is off to a bad start. Adapt your game (change clubs early, rely on trajectory, hit half shots, etc.). Be creative and stay open to change during these times.
Another important notion in this victory is the pleasure that was at the center of the Majorcan player's process.
"I am very, very tired, in every sense of the word. I can't even celebrate. But it was the day to give everything. I loved. I loved the fight, I loved the emotions."
Indeed, after this long absence, the pleasure of returning to a high level was more present. He also mentioned that this victory was the biggest comeback of his career.
Golf tip: keep the pleasure of the game during your games, sometimes the player loses this desire because he is too focused on his results. This enthusiasm must remain during their training sessions and friendly matches, as well as in competition.
We can also point out: the pleasure of combat and this ability to react to adversity.
Golf tip: the way you represent a situation will condition your behavior. Seeing a difficulty as a challenge will help you overcome yourself.
This is what will allow us to move forward and evolve. During your training, don't hesitate to do exercises that put you under pressure and present you with difficult but achievable challenges.
---
"Love for the game, passion, positive attitude and hard-working mentality"
---
The love for the game and this notion of spirit of work appear regularly in his speech. Hard work and perseverance are essential in a high-level career.
Here is his full post-match press conference.
"I wasn't prepared for this kind of battle, I hadn't trained enough to be prepared for it. I gave everything I had in me. »
We hear it regularly in interviews with elite athletes, it is difficult to be at 100% capacity for an entire season, there are moments of fatigue or injuries that disrupt competitions or the preparation of these athletes. But your mind takes over to find resources and adapt to find solutions.
Despite all his victories, R. Nadal describes this as special because of this injury. We see that these champions do not rest on their achievements, always wanting to move forward and give their best in each competition.
Golf tip: write down all your victories, not just the trophies, it could be the fact of having achieved some of your objectives such as having respected your game plan, having managed your emotions well, having done 1 training session a week throughout the season, a great putt…
It is important to highlight all these things achieved to build their confidence.
---
Stimulation and no pressure.
---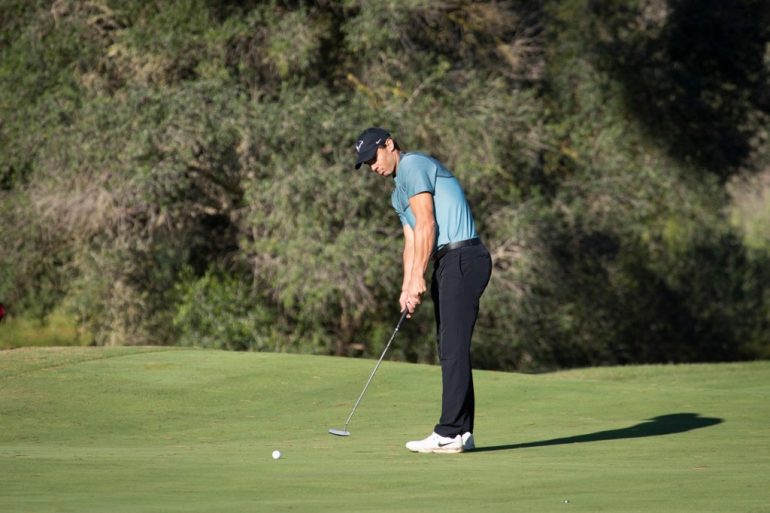 This victory was hailed by big names in tennis:
Novak Djokovic: "Always impressive fighting spirit"
https://twitter.com/DjokerNole/status/1487813313790677001?cxt=HHwWksC4ye-U46UpAAAA
Roger Federer: "It's fantastic, You should never underestimate a great champion. His incredible work ethic, dedication and fighting spirit are a great inspiration to me and many others around the world. I am proud to share this time with you and I am honored to help push you to achieve more, as you have done with me for the last eighteen years" (Instagram)
We see the respect among their exceptional champions and, through Federer's testimony, how important it is to have competitors in front of you that allow you to outdo yourself.
Golf Tip: Taking inspiration from the best allows you to see things differently and get out of your frame of reference. Stay focused on what you control and not on the game of your teammates. You can use this situation as encouragement and not as negative pressure.
It's always interesting to see how these exceptional champions achieve such feats.
However, the most important thing is the pleasure of the game and why you are playing golf. What are the reasons that make you love golf so much?
(See article: Which golfer are you? )
For some it will be sharing a game with friends, walking, discovering new routes, for others, competing and surpassing oneself. These motivations are personal and may change over time, but the most important thing is to keep the pleasure of the GAME.
Florian Cettour-Meunier
Pro PGA at Golf Château de la Tournette in Belgium
Mental and performance coach (Olympic athlete, top golfer, etc.)
Creator of www.golfiquement.com dedicated to the golfer's mind and performance
Photos from AFP and Instagram