How not to think today of these countries affected by the war? In the hope that the listening and dialogue necessary for all community life will regain all their rights, we are going to take a walk through Poland, that neighboring country of Ukraine where we discovered, three years ago, a magnificent golf course, the most beautiful in the country. : Modry Las (Forest green blue, in Polish) signed by Gary Player.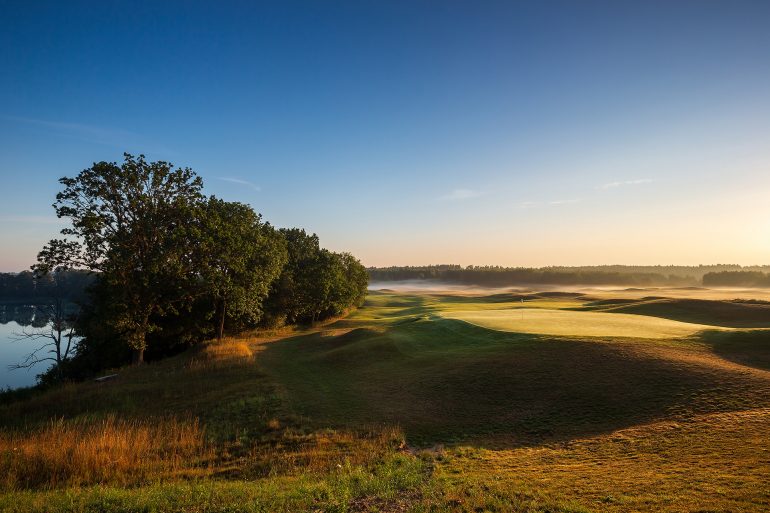 Located in the northwest of the country, this golf course is two hours by car from Berlin and one hour from Szcezecin, the regional capital of this Western Pomerania. Gary Player himself summed up this golf very well in a few simple words: "this is a high class golf course nestled in an extraordinary nature, an incredible place".
It is true that this space of "pure nature" as its owner likes to call it Arthur Gromadzky, is above all an oasis of peace, beauty and life devoid of any pollution, any trace of human aggression. Sometimes, when between two holes we have just come across a deer or a fox on the edge of a calm lake, we immediately imagine ourselves at the creation of the world!
Opened in 2009, Modry Las – green-blue forest in Polish, moving forward with a number of important developments in preparation for the upcoming golf season. For 2022, this PGA National will welcome new lodging options, the introduction of a luxurious clubhouse spa, and the launch of a water sports base around fabulous nearby lakes.
The investments follow a sixth win at the 2021 World Golf Awards, a nomination for Event of the Year, as well as entry among the World Golf Best Resorts and Courses in continental Europe.
"We used 2021 to drive a number of major projects at the resort, including starting work on six new garden suites and the completion of our fabulous clubhouse, which now offers guest facilities like changing rooms, lockers and club storage." explained Arthur Gromadzki, president of Modry Las. "The changes, which include work on and off the field designed by Gary Player, are yet another example of our commitment to continually improve what we do at Modry Las. »
The most beautiful golf club in Poland now has a magnificent clubhouse, a comfortable wellness area, six new garden suites to be completed by the end of the season – the complex can now accommodate 62 people.
Voted one of the top 100 golf courses in Europe by Golf World, Modry Las Golf Resort has been named the best golf course in Poland six times.
Photos Mark Alexander TWA