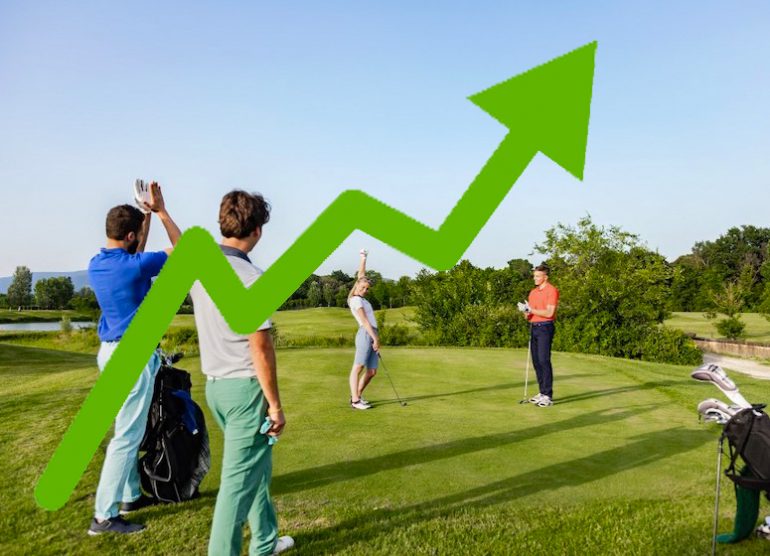 A study commissioned by the R&A and carried out by the company Sports Marketing Surveys (SMS) has revealed the growth figures for golf around the world with a massive influx of new golfers that has broken a new record for the number of players.
The R&A revealed on Tuesday that the popularity of golf around the world has seen exceptional growth in the last 5 years with more than five and a half million new golfers. Since 2016, the total number of golfers worldwide has increased from 61 million to 66.6 million. This has surpassed the previous record of 61.6 million set in 2012.
The study counts independent golfers, members and non-members, who play 9 or 18 holes, but also players who regularly travel to practice areas in countries where access to the course is limited.
This new figure reflects a positive trend in golf after a period of decline. We had already reported on this global and national boom with the main players in the sector in France at the end of October (read here).
Variety to validate this new popularity.
Phil Anderton, director of R&A development, was obviously delighted with these results: "Golf is currently experiencing a real explosion in popularity and we are seeing a substantial increase in the practice in many parts of the world, particularly in the last two years when golf was one of the sports that could be played safely outdoors. free during the day. COVID-19 pandemic. »
"These new numbers are very encouraging, but we must work together as a sport to make the most of this opportunity by retaining people who have returned to golf or made their debut. We can achieve this by offering a variety of attractive and flexible options that encourage golfers to play more regularly and enjoy its many health and wellness benefits with family and friends. »
Asia, Europe, United States
Sports Marketing Surveys collected data from national federations in different regions of the world.
Those with the largest increases are Asia (from 20.9 million in 2016 to 23.3 million in 2021); Europe (from 7.9 million to 10.6 million) thanks in large part to Great Britain and Ireland with more than 2 million new practitioners (5.7 million compared to 3.6 5 years ago); and North America (29.9 million to 30.6 million).
A perceived rebound before the pandemic
Research figures indicate that the growth trend began before the pandemic and lockdown, then accelerated as golf's popularity increased with evidence of the practice's beneficial effects on physical and mental health.
An outdoor activity respecting the principles of social distancing, arguments that have never ceased to be emphasized the French Golf Federation with public authorities to ensure a swift resumption of play during the two lockdowns.
In Great Britain, for example, the number of adults playing a 9- or 18-hole course began to gradually increase before the Covid-19 pandemic, rising from 2.5 million in 2017 to 2.8 million in 2018, then to 3 million in 2019, then jumped to 5.2 million in 2020.
Among new golfers, 98% of respondents indicated that they enjoy playing golf and 95% see themselves playing golf for many years to come.
Recommendations for clubs
The study also provides ways to retain these new players with recommendations for clubs: players must feel welcome and valued, the club must create a friendly and relaxed atmosphere, develop game options based on skills and experience, good customer service and a reliable environment, fair and efficient reservation system. It is also a question of quality and maintenance of the field and of promoting eco-responsible practices.
Please note that the R&A is the body in charge of golf throughout the world, except for the United States and Mexico. Observations for the US are taken from a 2020 report by the National Golf Foundation (NGF) and refined through field studies conducted by Sports Marketing Surveys. .