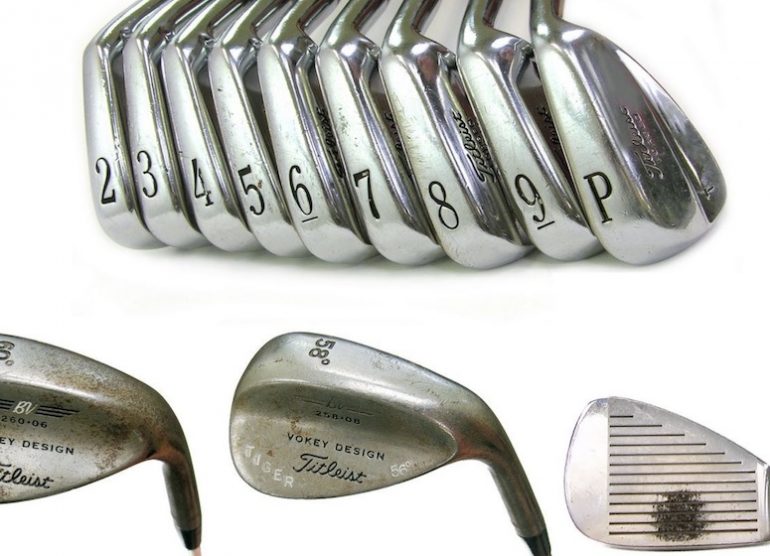 The Golden Age auction site has put online the series of Titleist clubs used by Tiger Woods to achieve his grand slam for two years between 2000 and 2001. The auction will end on the Saturday of the Masters, April 9 at midnight!
One of Tiger Woods' craziest exploits dates back more than 20 years. This is Tigre's 4-game Grand Slam winning streak between the 2000 and 2001 seasons.
In June 2000, Woods crushes the competition at Pebble Beach and wins the US Open by 15 shots. In July, Tiger won his first "British" at the Old Course at Saint-Andrews and a few weeks later he defeated Bob May in the Valhalla playoff to retain his US PGA title.
At the following year's Masters, Tiger was obviously the favorite and despite the pressure surrounding the possibility of completing the "Tiger Slam", winning all 4 Grand Slam tournaments in a row, the world number 1 responded! !
9 irons and 2 sand wedges
At the time, Woods was still playing Titleist 681-T irons. Clubs that have entered the legend of this sport and that the GoldenAge site has put up for sale at a starting price of $25,000. To bid go here: https://goldenagegolfauctions.com/bids/bidplace?ItemId=32891
If you win the auction on April 10, you will own this legendary series of 9-irons, from the 2-iron to the pitching wedge, as well as two SandWedges Vokey 58° and 60° that have the "TIGER" engraved on them.
$57,000 in 2010
Purchased by a businessman in 2010 for just over $57,000, it should fetch a much higher sum 12 years later.
The Golden Age site is not on your first try. Last year Tiger Woods' aftermarket putter sold for nearly $400,000.
Lie detector !
To guarantee the authenticity of these clubs, the buyer will be given a sworn statement (Affidavit) of various personalities. Former Titleist Vice President Steve Mata even provides a copy of his polygraph test!
There will also be an article from the American magazine GolfWeek detailing the technical specifications of the clubs used by Woods during his US PGA victory in 2000. They correspond in all respects to those of the clubs for sale. .
Currently the price is already close to 300,000 dollars.
©Goldenage