The vast majority of courses have par 3, par 4 and par 5. This is a norm, but not the rule! There are quite a few par 6s in the world and even a… par 7! You have to go to South Korea, to the Gunsan Country Club.
Notice to thrill seekers and other unrepentant hitters! Especially for those who are tired of hitting the fair greens after 2 or 3 strokes, there is a very simple way: play the longest hole in the world.
It is not easy, especially for the wallet, since you have to go to South Korea to unhook the pom pom. Before warming up your Carte Bleue and, several times, your driver, you will already have to travel 9,000 km by plane from France.
A hole a kilometer long!
From the capital Seoul, it still takes 250 km to reach the Gunsan Country Club (notions of Korean required), theater of a unique experience in the jeongup course. On the 1km long hole No. 3, the golfer will be able to observe, touch, inspect, touch, search, drink, touch, take a selfie, eat, blow, touch, massage, putt and possibly putt again before entering to your score…
Distant 1004 yards from the back tees, this hole is a for 7 showing, lo and behold, handicap 1. Along a large body of water to the left, the longest golf hole in the world is a slight double dog-leg, veering to the right and then back to the left .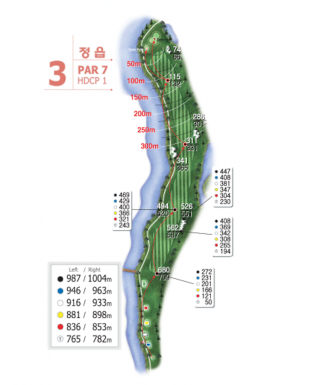 The club hosts 81 holes!
Made by the architecture studio Nelson and Haworth (Robin Nelson designed the Champ de Bataille golf course in France in particular) Gunsan CC does not appear in the top ranking of Korean golf courses. Undoubtedly because of its environment and its specificity, since it houses nothing less than 81 holes ! I might as well do them all, right?
Well, beware, all the others are nothing extraordinary, except for a 661m long par 6. Pffff ridiculous! Built on a 430-hectare former marsh, the 9 9-hole courses (9×9 = 81) are connected by 26 bridges. Water represents 36% of the total surface.
So warm up and bring some balls!